by Lydia Whitlock — Sep 18th, 2016
Spaghetti squash is kind of a magical vegetable. If you cut it open before cooking, it looks like a normal, solid, bright yellow squash. But after cooking, with a simple scrape of a fork, it separates into impressively long, slightly crisp strands! There are many recipes out there that substitute this squash for pasta, and with good reason -- it's almost as satisfying topped with tomato sauce as actual spaghetti is. But I find there are fewer recipes that treat this vegetable as an actual squash, complementing its flavor rather than trying to hide it.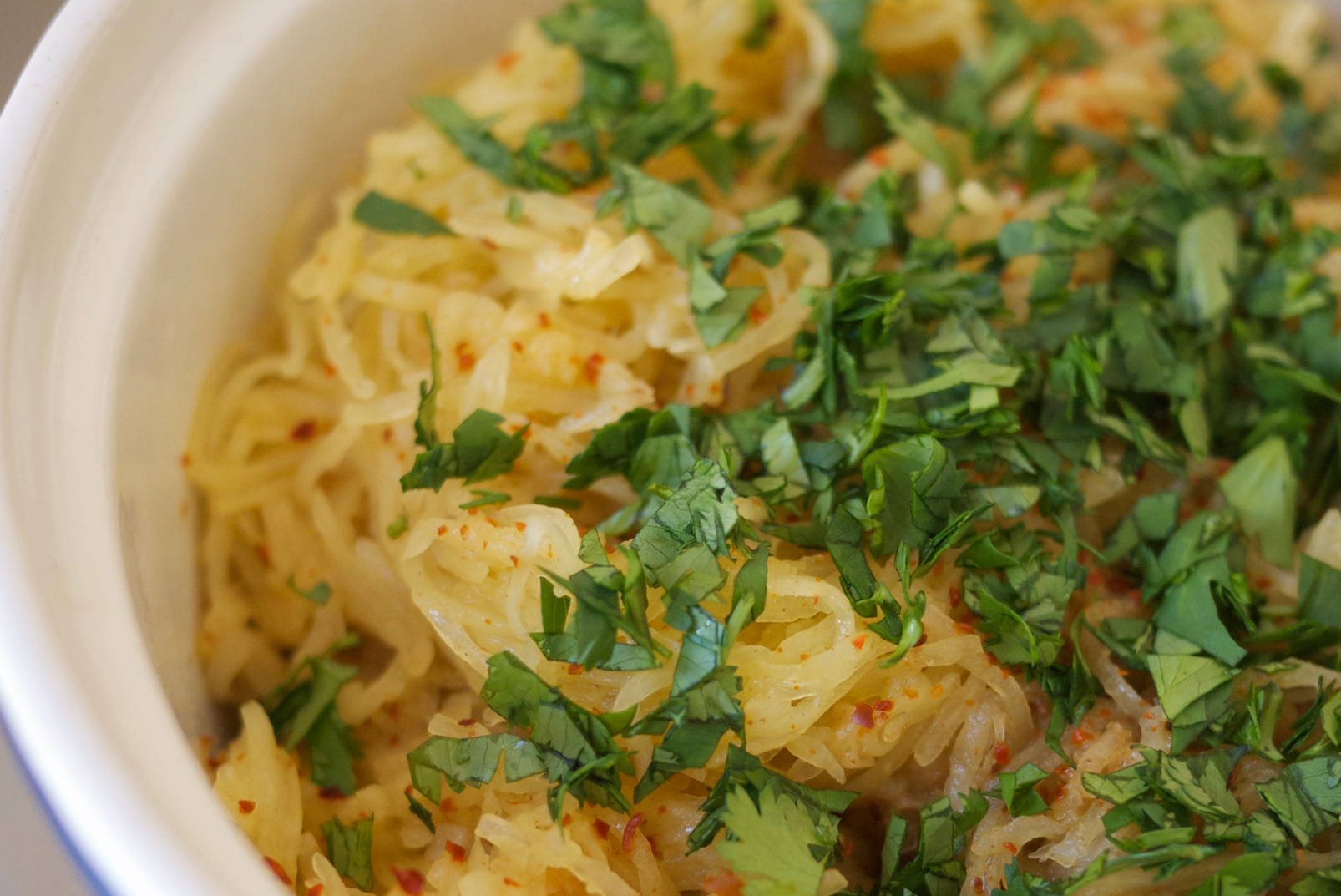 But this recipe treats the squash as squash, giving the whole thing a quick cook in the microwave before tossing the strands with a beautifully spiced butter. The strands soak up the flavor of the spices perfectly, and the dish manages to be both light and luxurious, the butter lending just the right amount of indulgence to the steamed vegetable.
INGREDIENTS
PREPARATION
Pierce the squash all over with a small, sharp knife, going about one inch deep to prevent it from bursting. Place the whole squash on a plate in an 800-watt microwave, and cook on 100% power for six minutes. Carefully turn the squash over to its other side and microwave at 100% power again, until the squash feels slightly soft when pressed, eight to ten minutes more. Let the squash cool for five minutes.
While the squash cools, melt the butter in a small saucepan over medium-high heat. When foam has subsided, add the garlic and cook, stirring constantly, until the garlic has just turned golden. Stir in the spices and remove the pan from heat.
Carefully cut the squash in half lengthwise -- it may still be quite hot to the touch, and will give off steam when opened. Scrape out the seeds in the middle with a spoon and discard.
Using a fork, scrape the strands of squash away from the sides and into a bowl, making sure they separate well.
Put the squash in a bowl and toss well with the spiced butter, salt, and cilantro. Serve warm.
Serves 6 as a side dish. Adapted from Gourmet.
Full post »