by Lydia Whitlock — May 26th, 2016
Maybe you have your grilling recipes all set for this weekend. Maybe you're letting someone else do the grilling. Either way, don't forget about the sides! This coleslaw hits all the right notes. It's a little sweet, with a tangy, Southern-style dressing, ready to be piled on top of pulled pork sandwiches, served alongside a bucket of fried chicken, or mounded on a plate next to some barbecued burgers. But it has a little more personality than a regular slaw, with a jalapeno chili adding some spice, and ground cumin and cilantro adding some bright, earthy flavors that make this slaw equally suited to topping a Tex-Mex taco.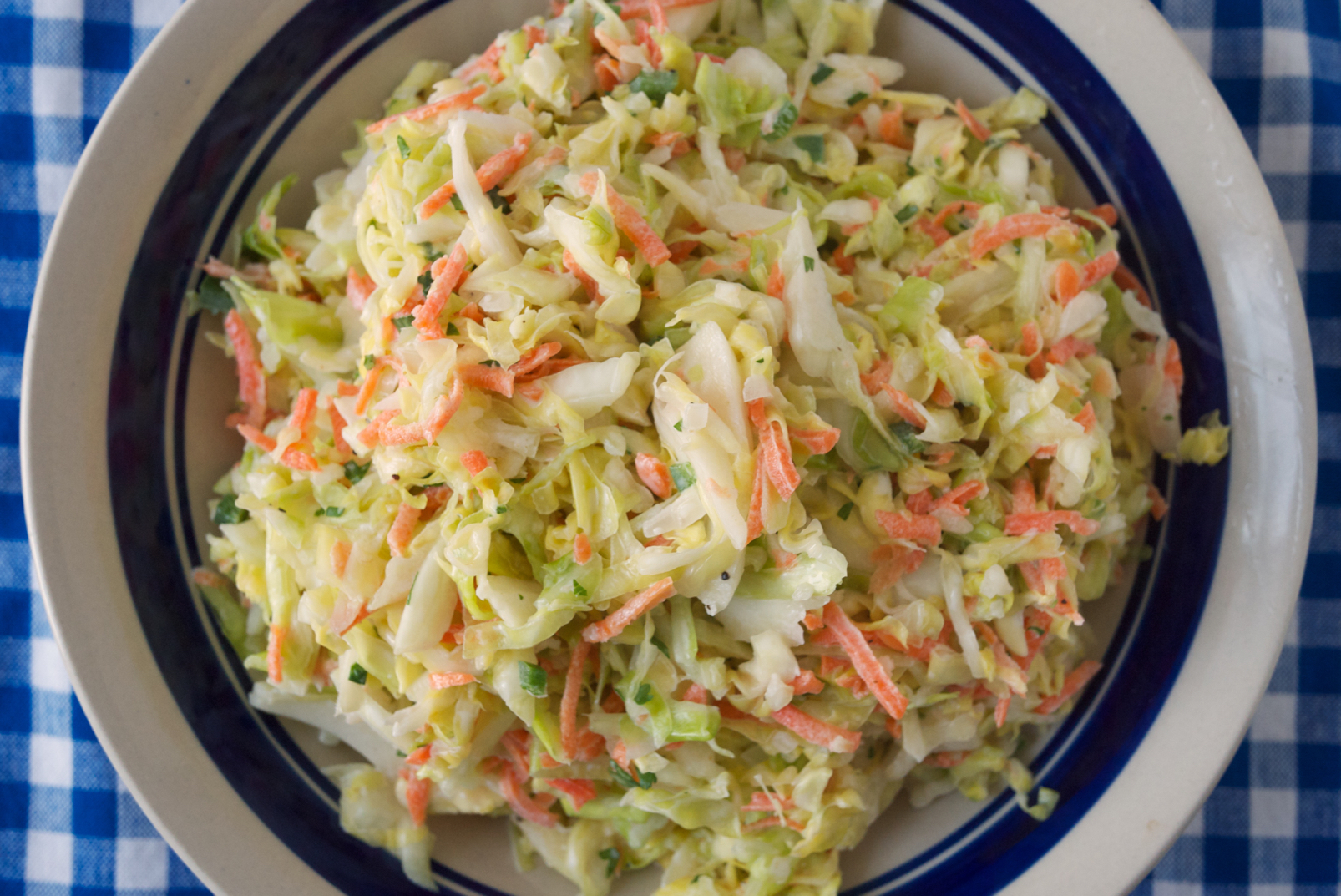 The method of salting and sugaring the vegetables before rinsing them and spinning them dry means that this slaw doesn't become watery over time -- it retains its crunch without diluting the delicious dressing.
INGREDIENTS
Dressing
1/3 cup sour cream
1/3 cup buttermilk
1/3 cup apple cider vinegar
1/4 cup mayonnaise
3 Tbs. granulated sugar
3 Tbs. lime juice, from 2-3 limes, plus 1/2 tsp. lime zest, finely grated
3 Tbs. cilantro, leaves and tender stems finely chopped
1 Tbs. garlic, finely minced, from about 3 medium cloves
1 tsp. Vanns Ground Cumin
1 tsp. Vanns Black Tellicherry Peppercorns, freshly ground
Vanns Kosher Salt, to taste
Coleslaw
1 large head green cabbage, about 3 1/2 lbs., finely shredded
1 large carrot, peeled and grated
1 large jalapeño, stemmed, seeded, and minced (seeds can be left in for a hotter slaw)
2/3 cup granulated sugar
1/3 cup Vanns Kosher Salt
PREPARATION
Make the dressing. In a medium bowl, whisk together the sour cream, buttermilk, vinegar, mayonnaise, sugar, lime juice, lime zest, cilantro, garlic, cumin, and black pepper. Set aside.
To make the slaw, toss the shredded cabbage, grated carrot, and minced jalapeno in a large bowl. Sprinkle with ⅔ cup sugar and ⅓ cup kosher salt and toss to combine evenly. Let the vegetable stand for 5 minutes, and then thoroughly rinse in a large colander under cold running water.
Transfer the rinsed vegetable to a salad spinner -- depending on its size, you may want to do this in 2 batches. Spin the vegetables dry and transfer to a large, clean bowl. If you don't have a salad spinner, line a large baking sheet with three layers of paper towels or a clean kitchen towel and spread the vegetables out in an even layer on top. Blot dry with more towels.
Pour the dressing over the vegetables and toss to evenly coat. Taste for seasoning, adding more salt, sugar, and/or pepper to get it just right.
You can start this recipe the night before, if you want. Salt and sugar the vegetables, rinse and dry them, then store in the fridge in an airtight container. The next day, pour off any liquid that has collected in the bottom, toss with dressing, and serve. The coleslaw can be dressed and refrigerated up to 4 hours ahead of serving without suffering any loss of quality. Toss the dressed slaw once more to redistribute the dressing before serving.
Serves 10. Adapted from Serious Eats.
Full post »