by Lydia Whitlock — Oct 25th, 2016
Moroccan carrots are a fairly ubiquitous dish, and with good reason. The common thread throughout the many variations is the combination of sweet, earthy carrots, tart lemon juice, a luxurious amount of olive oil, and the perfect blend of spices.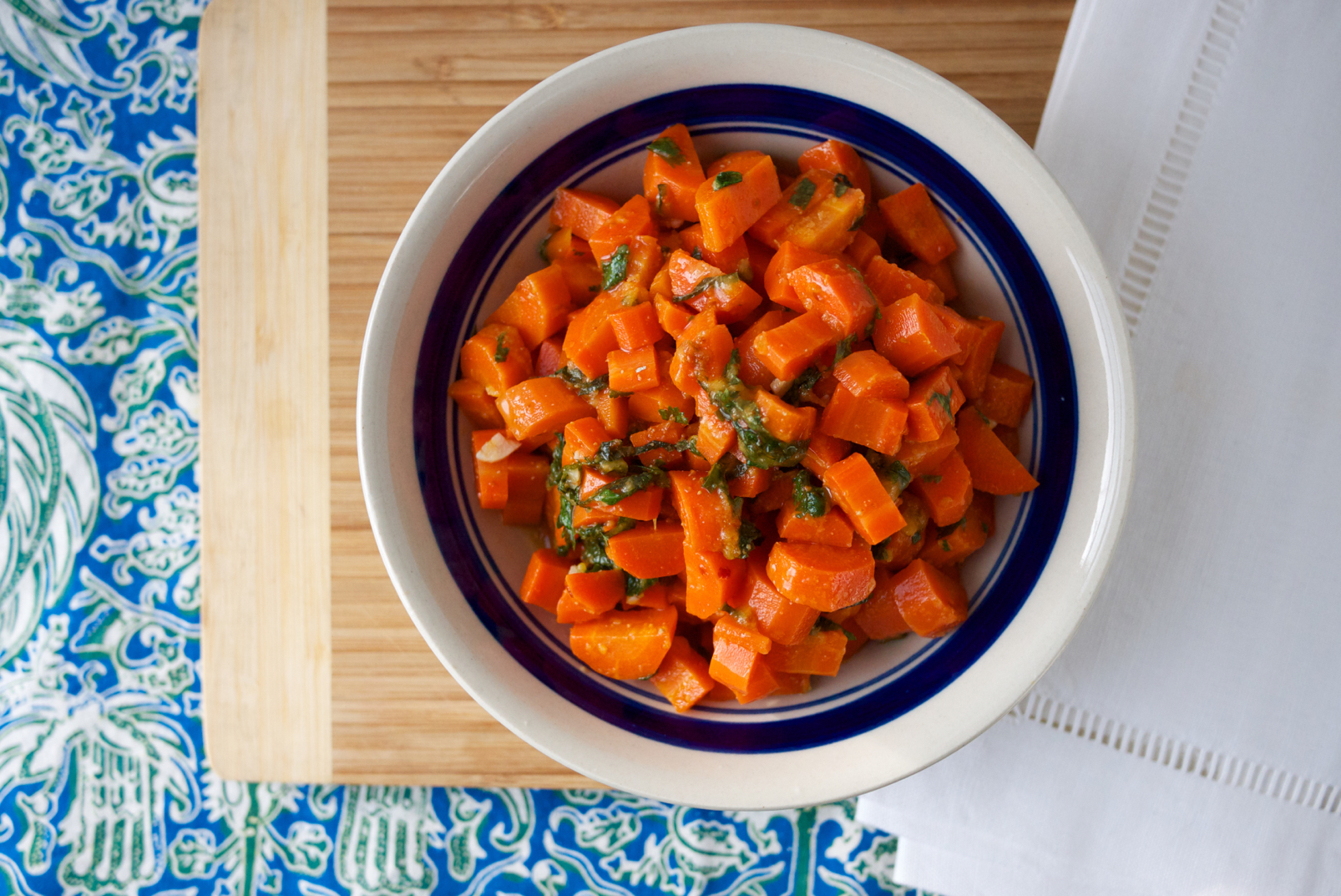 This version adapted from Zahav is a genius take on the recipe, using the liquid in which the carrots cook as a super carrot-y addition to the dressing. Served chilled, these carrots are a great accompaniment to a grilled meat or as an addition to a mezze platter. And, if you're looking for an easy make-ahead side dish for your Thanksgiving dinner that's a little off the beaten path, try this one!
INGREDIENTS
6 large carrots, peeled and trimmed
1 clove garlic, peeled and minced
¼ cup extra-virgin olive oil
¼ cup orange juice, preferably fresh-squeezed, from 1-2 oranges
2 Tbs. lemon juice
¼ cup cilantro, leaves and tender stems chopped
1 Tbs. mint leave, chopped
1 tsp. Vanns Ground Cumin
PREPARATION
Lay the whole carrots in a large, deep skillet. Sprinkle with a pinch of kosher salt and just barely cover the carrots with cold water. Cook over medium-high heat for about 10-12 minutes, until carrots are just beginning to soften. This may take more or less time depending on the size of your skillet and your carrots, so take care not to overcook them.
When the carrots have just started to soften, remove them from the skillet with a slotted spoon and set them aside to cool. Don't throw away the cooking liquid! That will become your dressing.
As the carrots cool, reduce the carrot cooking liquid by simmering over medium-high heat, until it becomes almost syrupy, about 10 minutes. Again, this will depend on the size of your pan, so use your best judgement -- you don't want it to be too watery. Once reduced, add the garlic and cook for 1 more minute, just to take away the raw edge.
Remove the liquid from the heat and whisk in the olive oil, orange juice, Aleppo-style chili flakes, ground cumin, cilantro, mint, and 1 tsp. Kosher salt, or more to taste.
When carrots are cool enough to handle, slice lengthwise, then crosswise into half-inch half moons. Toss the carrots in the dressing and refrigerate for at least 1 hour before serving, to allow the flavors to meld.
Serves 6 as a side dish. Adapted from Zahav.
Full post »