by Lydia Whitlock — Jul 26th, 2016
These crackers are delicious -- light, crunchy, full of the textures and flavors of nuts and dried fruit, with a hint of herbs and spices. They're amazing on a cheese plate. Seasoned with Vanns Dried Rosemary, they have a piney, sophisticated flavor, perfect for goat cheese, but any cheese will make a happy partner. Feel free to experiment with different nuts, dried fruits, and spices as well!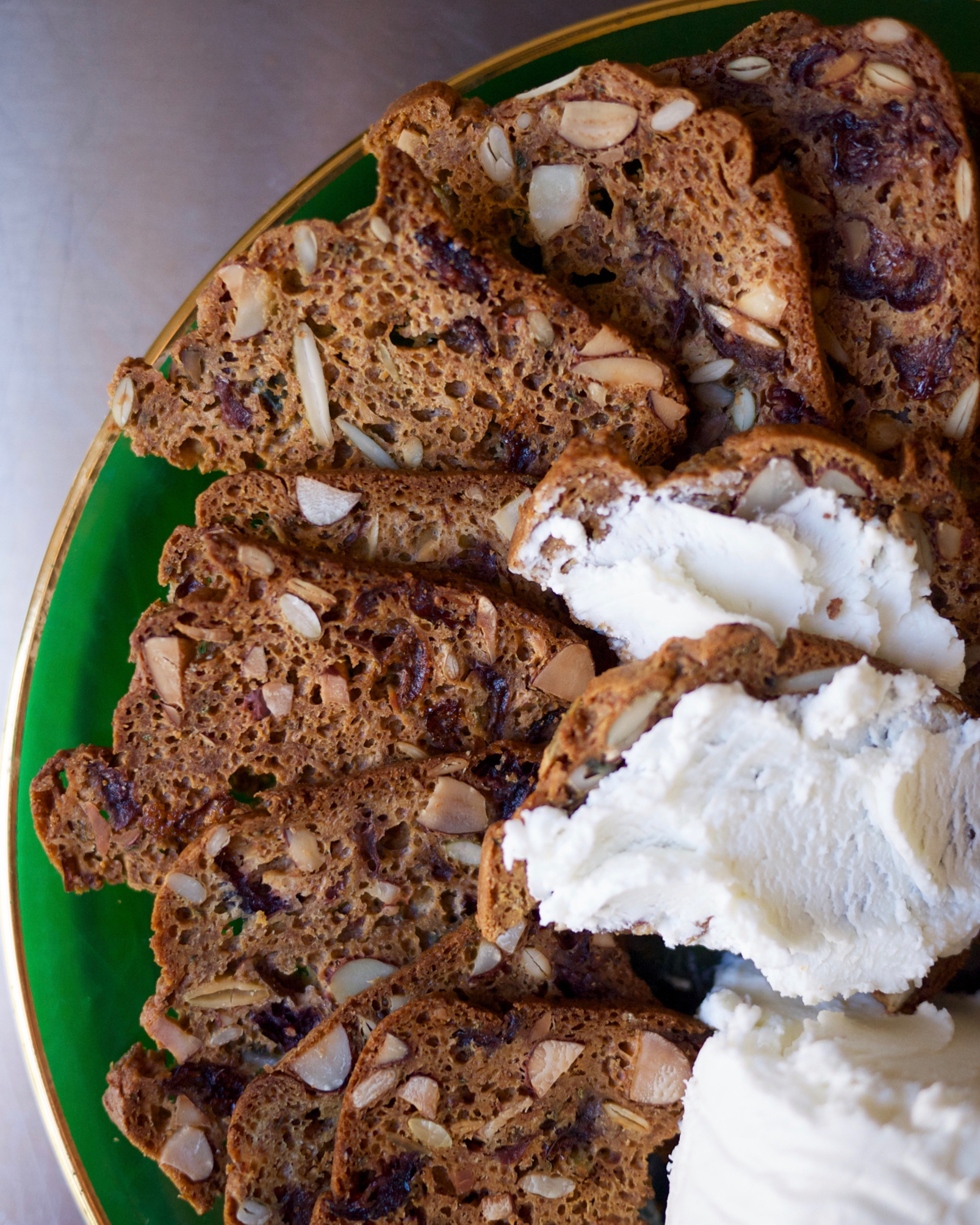 INGREDIENTS
nonstick cooking spray
1 cup dried cranberries or other dried fruit (if using larger pieces, chop to be cranberry-sized)
¾ cup pecans (or walnuts, or almonds, or any other nut you'd prefer)
1 cup all-purpose flour
1 cup whole wheat, rye, spelt, or other whole-grain flour
1 Tbs. Vanns Rosemary
2 tsp. baking soda
1 tsp. Vanns Kosher Salt
2 cups buttermilk (or 1 cup yogurt mixed with 1 cup milk)
⅓ cup packed brown sugar
½ cup pumpkin seeds
¼ cup sunflower seeds
PREPARATION
Preheat the oven to 350°F. Evenly coat a loaf pan (or 4 mini loaf pans) with nonstick cooking spray.
Place the cranberries in a small bowl and cover with very hot water. Let them soak and plump for at least 15 minutes, while you prepare the other ingredients.
Place the pecans on a baking sheet in an even single layer and toast in the oven until fragrant, 8-10 minutes. Allow them to cool slightly, then chop them roughly on a cutting board while the pecans are still a bit warm.
In a large bowl, whisk together the flour, Dried Rosemary, baking soda, Kosher Salt, and brown sugar, making sure to break up any big clumps of brown sugar. Pour the buttermilk over the dry ingredients and stir gently until no more dry flour remains. Be careful not to overmix.
Drain the cranberries after at least 15 minutes. Add the cranberries, chopped nuts, pumpkin seeds, and sunflower seeds to the batter and stir gently to mix them in evenly.
Pour the batter into the prepared pan(s), making sure to divide it evenly if using mini loaf pans. Bake in the oven for 30-35 minutes (for mini loaf pans) and 35-45 minutes (for a regular loaf pan), until the tops have risen to domes and turned golden brown, and a tester inserted into the middle comes out clean.
Remove the loaf or loaves from the pans and allow them to cool completely on a rack. If you are using a large loaf pan, you can slice the loaf in half lengthwise at this point, in order to create bite-sized crackers. Or you can leave the full-size loaf whole and have larger crackers -- it's up to you!
Wrap the loaves tightly in foil and freeze until solid, overnight. You can stop at this point and leave the loaves in the freezer for up to 3 months, pulling them out to make crackers whenever you're in the mood!
When you're ready to make the crackers, preheat the oven to 300°F and line two baking sheets with parchment paper. Remove one of your loaves from the freezer, unwrap it, and slice it as thinly as possible with a serrated knife, aiming for a thickness between ⅛-inch and 1/16-inch. Lay the slices in a single layer on the baking sheets. The crackers can be quite close together, but be careful not to let them touch. Slice as many crackers as you want, then bake for 15 minutes. Flip the crackers and bake for another 10-15 minutes, keeping a close eye on them. They're done with they feel dry to the touch, are golden brown, and are curling up a bit at the edges. Don't worry if they still feel a bit soft in the middle -- they'll crisp up as they cool.
Cool crackers completely on a cooling rack and serve! Goat cheese and brie go wonderfully with these crackers. You can store them in an airtight container at room temperature for around two weeks, if they even last that long.
Makes around 12 dozen small crackers. Adapted from The Kitchn.
Full post »