by Lydia Whitlock — Aug 17th, 2016
These falafel sandwiches are straight-up amazing. The falafel is flavorful, crisp, and light, so good that even by itself it's a wonderful thing. But add in fluffy pita bread, some spiced, spicy herb-chile sauce, some pickles, and a little smear of something creamy, and you'll end up with something that is all about contrasting flavors and textures, something that's crunchy and warm and savory and spicy and sour, all at the same time, all in the right amounts.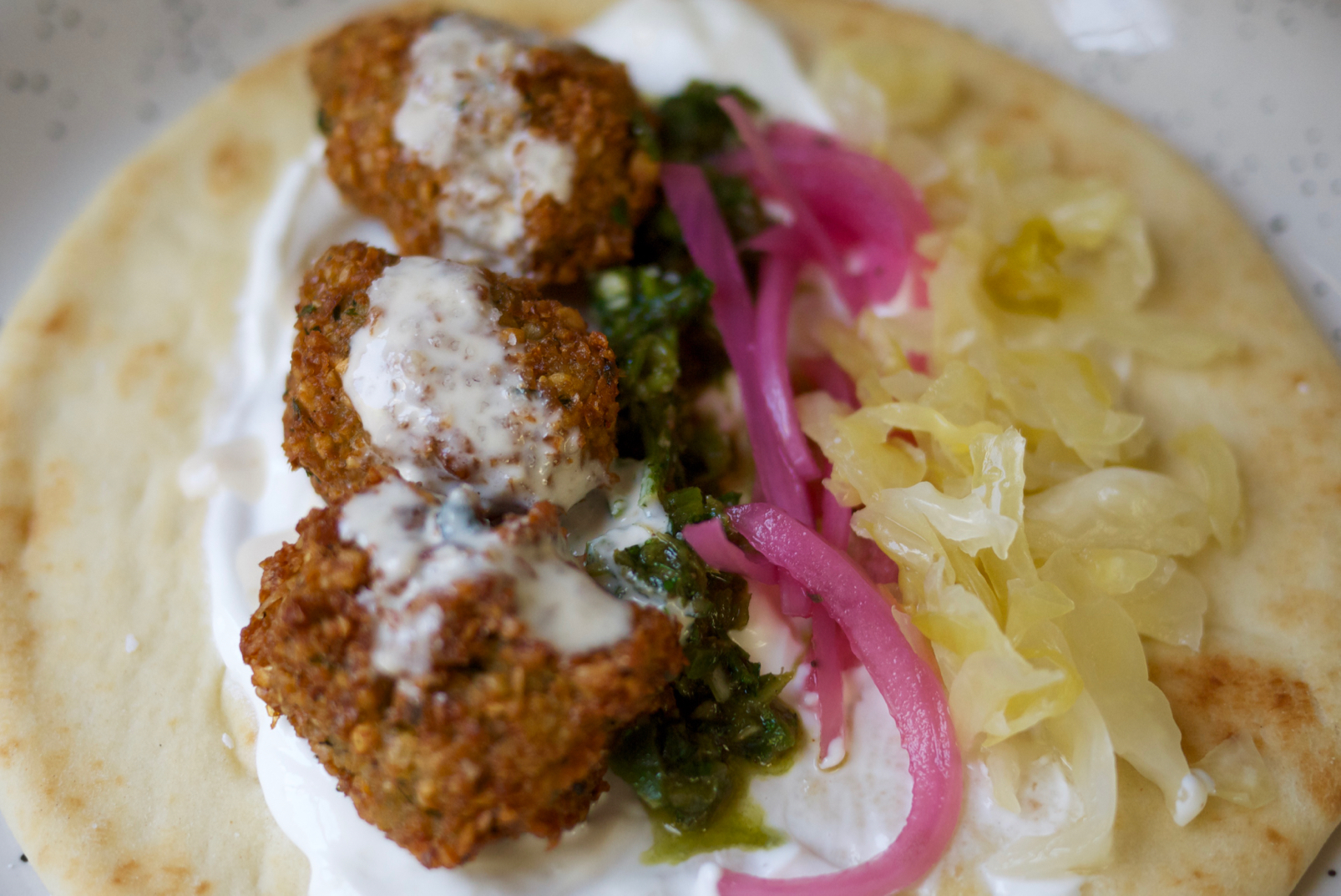 This falafel is barely more difficult to make than the falafel that comes from a boxed mix, and the end result is so much better, with a much more varied and crunchy texture and a much deeper flavor, thanks to the dried spices and fresh herbs that get blended into the mix. The deep frying may be a bit of a hassle, but it's worth it, especially if you consider that you can save your frying oil for two more rounds of falafel, which I suspect you will be making soon after trying this recipe. Note ahead of time that the chickpeas will need to soak overnight, so account for that in your planning.
INGREDIENTS
Falafel:
1 ¼ cups (250 grams) dried chickpeas
½ medium yellow onion, finely chopped
1 clove garlic, crushed, peeled, and minced
1 Tbs. flat-leaf parsley, finely chopped
2 Tbs. cilantro, finely chopped
¼ tsp. Vanns Cayenne
½ tsp. Vanns Ground Cumin
½ tsp. Vanns Ground Coriander
¼ tsp. Vanns Ground Cardamom
½ tsp. baking powder
1 tsp. Vanns Kosher Salt
3 Tbs. water
1 ½ Tbs. all-purpose flour
About 3 cups vegetable oil, canola oil, peanut oil, or sunflower oil, for frying
Pickled Red Onions:
Zhoug (a spicy herbal hot sauce with the texture of a salsa. It's a wonderful addition to the traditional falafel-tahini sauce combo):
Tahini Sauce:
⅓ cup tahini paste
¼ cup water
1 Tbs. lemon juice
1 clove garlic, grated on a Microplane or minced
¼ tsp. Vanns Kosher Salt, or to taste
To Assemble Sandwiches:
Fried Falafel
Pita Bread
Labneh or Greek Yogurt (optional)
Zhoug
Tahini Sauce
Pickled Red Onions
Sauerkraut or other pickled vegetables (such as turnips, beets, carrots, optional)
PREPARATION
To begin, soak the chickpeas overnight, covered with water at least twice their volume. You can make your condiments the night before or the day you plan to fry the falafel. Note that you'll need to let the ground falafel mix sit in the fridge for at least 1 hour, so you can easily make the sauces during that time.
Make the falafel mix: Drain the chickpeas after soaking overnight, and stir in the onion, garlic, parsley, and cilantro. Put the mixture in a food processor in two batches, and pulse until you have a finely chopped mixture that is even in texture but not mushy or pasty. Place the chopped mixture in a bowl and stir in the spices, baking powder, salt, flour, and water. Cover and refrigerate for at least hour.
Make the Pickled Red Onions: Thinly slice the onions. You can do them in rings, or slice the onions in half and do half moons or slice from pole to pole for more gently-curved shreds. Separate the onions slices and place them in a colander. Set the colander in your sink and pour all of the boiling water over them, making sure to get each onion piece.
Place the onions in a bowl and add the rest of the ingredients. Cover and refrigerate for at least 15 minutes before serving -- longer is better. The onions will keep for several weeks in the fridge in a tightly-sealed container.
Make the Zhoug: combine all ingredients in a mini food processor and pulse a few times until you get a coarse paste. It should be a coarse texture, more of a salsa than a pesto. Refrigerate for up to 3 weeks.
Make the Tahini Sauce: Stir all ingredients together until evenly combined. Add more water if needed -- you want a sauce that is creamy and smooth and can be drizzled on a sandwich.
To fry the falafel, fill a deep, heavy-bottomed, medium saucepan with enough oil to come 3 inches up the sides. Heat the oil to 350°F. Prepare a large plate or tray with a layer of paper towels.
Moisten your hands, and press 1 Tbs. of falafel mixture into a ball. Make it as compressed as possible. A loose falafel ball will dissolve in the oil, leaving behind only tiny golden bits. Lower the falafel balls into the oil, frying in batches for about 4 minutes, until the outsides of the balls are a crisp, deep golden brown. Remove the balls with a slotted spoon to your prepared plate or tray and allow them to drain. You can keep them warm in a low oven if needed.
Assemble the sandwiches: Toast the pita breads lightly, so that they're warm, but are still soft and flexible. Spread each pita bread with a spoonful of labneh or yogurt if you like. Top each pita with three falafel balls, and run a spoonful of zhoug down the line of falafel balls. Add pickled onions, sauerkraut, and/or other pickles to taste, and then drizzle the entire sandwich with some tahini sauce, 1-2 Tbs. of it -- you want the sandwich to be well-flavored, but not too wet.
Wrap the pita around the sandwich contents, and enjoy! These sandwiches also travel fairly well and taste good at room temperature -- wrap the completed sandwiches securely in tin foil, and you have a wonderful picnic at the ready.
Makes about 20 falafel, or 6 sandwiches worth, with a few left over for snacking. You can also throw these on top of a salad, or serve them with the tahini sauce and zhoug on the side for dipping. Adapted from Jerusalem.
Full post »